Questions about our Adult Education offerings? Please reach out to our Engagement Coordinator Amy Stein.
The Adult Education Committee is comprised of Penina Glazer, Phyllis Eckstein, Larry Fine, Joshua Roth, Laura Katznelson, Dave Gorin, and Steffi Schamess.
Fall & Winter Offerings
Weekly Parsha Class with Rabbi Ariella and Rabbi Jacob
Fridays 12:00-1:00 pm in the CBI Library, starting October 27
In person only. Drop in; no registration required.
Join Rabbi Ariella and Rabbi Jacob for a discussion of the weekly Torah portion. All are welcome, no prior knowledge or experience required. Each session will stand alone, feel free to come whenever it works for you. And please feel free to bring your own lunch!
---
Tuesday Text Study Group: Jewish History and Life Havurah
Tuesdays 12:00 to 1:00 pm, starting September 26, on Zoom
Please contact Henny Lewin if you are interested in joining.

This study group grew out of a long-standing Tanach text-study with Rabbi David. This past semester the group was peer-led and collectively studied The Book of Revolutions by Rabbi Ed Feld. The group decided to continue as a peer-led study group and will begin by reading The Story of the Jews by Simon Schama, a comprehensive analysis and overarching view of Jewish history.

There will be opportunities to pursue some of the topics in greater depth and textually study excerpts from famous commentators. Henny Lewin, a national award winning Jewish educator, will serve as the facilitator. This study group is open to people of all backgrounds who do not have to belong to any synagogue or even be Jewish, as long as they are interested in Jewish learning.
---
Living a Meaningful Jewish Life: Exploring the Foundations of Jewish Tradition, Culture, and Practice - An 18-week course taught by Rabbi Jacob, Rabbi Ariella, and guest teachers
Wednesday evenings 7:00-8:30 pm October 25 -March 20 at CBI (no class on Nov 22, Dec 27, Feb 21)
This class will include an option for participatory, virtual attendance via Zoom.
In this course we will explore together many aspects of Jewish life: daily spiritual practices, the holiday cycle, Shabbat, eating practices, migration, history, and more. This class is geared toward anyone who wants to learn more about Jewish life: individuals exploring conversion, non-Jews part of Jewish families, and Jews of all stripes who want to learn more. If you think this class is for you, it is! Students are encouraged to come with questions, curiosity, and challenges. Ever wonder why Jewish do [insert curious custom here]? Ask us and we'll cover it!

This class has begun and registration is now closed. If you are still interested in joining us, please email Rabbi Jacob and Rabbi Ariella directly.

Tuition for this 18-session class is on a sliding scale of $180-$360 to cover the costs of the curriculum and guest teachers. Please pay tuition along this scale according to your financial capacity. If you cannot contribute a minimum of $180, please pay what is feasible for you. No one will be turned away for lack of funds.
---
Beginner Hebrew with Helene Leue
January 24 through February 28, Wednesdays 7:00-8:30 pm
In person only, maximum of 12 students. Participants will need to purchase the book for this class, listed below.

Register here. This six-session class is everything you need to learn to decode and read Hebrew, even if you don't understand it. Helene Leue has taught Hebrew to all ages, with a particular interest in beginning students. We will use the Berman House book Learn Hebrew Today: Alef-Bet for Adults, which teaches Hebrew decoding with an emphasis towards prayer book literacy. After this class, reading Hebrew will be easier than transliteration!
To cover the costs of this six-session class, we are asking for tuition on a sliding scale of $0-$180. No one will be turned away for lack of funds.
---
Let's Talk About Prayer, with Rabbi Becca Walker
Thursday evenings 7:00-8:30 pm: January 4, 11, 18, 25, February 1, 8 at CBI.
This class will include an option for non-participatory, virtual attendance via livestream.
Register here. This class is for those who are curious about what the prayers mean and where they came from. Maybe you struggle with prayer, or maybe you love it-either way this class is for you. We will slow down to take a look at the meaning and development of the prayers in our siddur. We will discuss prayer choreography (wait should I be standing?!) and more. This class is a complement to the Prayer class from last spring, but it is designed and accessible both for those who took that class and those who did not.
To cover the costs of this six-session class, we are asking for tuition on a sliding scale of $0-$180. No one will be turned away for lack of funds.
Meet the Author Series
Sundays, beginning October 29
In person in the CBI Social Hall
10:30-11:00 am: Coffee and nosh
11:00-12:00 pm: Author presentation and discussion
12:00 pm: Book signing
No registration required, except where noted.
We encourage you to purchase your copies of these books from any one of the local bookstores in our region!
Sunday, October 29: Literary Café, begins at 10:00 am!
You are cordially invited to hear the following local writers read from their work: Carol Jolly, Heath Kalb, Ilene Rosenthal, John Clayton, Matt Price, and Roberta Goldman.

This event will serve as a benefit for Hadassah's Youth Aliyah Program. Youth Aliyah was founded in Berlin, on January 30, 1933, the same day that Hitler took power, to rescue Jewish Youth by sending them to Palestine to Kibbutzim and newly created Youth Villages. Today's Youth Aliyah Child Rescue continues to absorb young newcomers from Russia, Ukraine, Ethiopia. Youth Aliyah villages also offer a second chance to 'at risk' youth, with guidance, education and love. There are now Israeli orphans and traumatized youth in great need of the Youth Aliyah embrace.
Suggested donation $18.00 - bring cash or check.
Sunday, November 5: Jennifer Rosner, author of Once We Were Home, followed by a book signing!
Readers have been calling Once We Were Home a "revelation" because it animates histories they never knew about, despite all their reading about WW2. The novel follows four children as they seek to re-root after rupture and displacement. Oskar and Ana have been hidden during the Holocaust by a Polish farm family. Roger has been raised in a convent. Renata believes her German parents are her own. What happens after war's end, when the children are wrenched from what they now consider their families? Or when the people who harbored them refuse to let them go? As the children's stories converge two decades later, in unexpected ways, they must each ask where and to whom they truly belong. Luminous and gripping, Once We Were Home reveals a little-known history and raises questions of complicity and responsibility, belonging and identity, good intentions and unforeseen consequences, as it confronts what it means to find home. Jennifer Rosner is the author of the novels Once We Were Home and The Yellow Bird Sings, a National Jewish Book Award finalist in Debut Fiction and Book Club and a Massachusetts Book Award Honor Book. Other books include the memoir If a Tree Falls: A Family's Quest to Hear and be Heard, and the picture book, The Mitten String, A Sydney Taylor Book Award Notable. Jennifer's work has been translated into a dozen languages. Her short writings have appeared in The New York Times, The Times of Israel, The Forward, and elsewhere. In addition to writing, Jennifer has taught philosophy.
Sunday, November 12: Merle Feld, author of Longing: Poems of a Life
In Merle Feld's new collection, stark images and sacred stories open worlds of family life, friendship, challenge, sorrow and blessing. Merle is delighted to share a selection of poems from the new book and looks forward to an ensuing conversation with the CBI community about the journey of our lives. Books will be available for signing and purchase.

Merle Feld is a widely published poet, award-winning playwright, peace activist, and educator who has pioneered teaching writing as a spiritual practice. Her prose and poetry, including her signature poem about women and men at Sinai, can be found in numerous anthologies and prayerbooks. She has authored a highly acclaimed memoir, A Spiritual Life: Exploring the Heart and Jewish Tradition (State University of New York Press, revised edition 2007); her third and most recent book of poetry is Longing: poems of a life (CCAR Press 2023).
Sunday, November 19: John Sears, author of Refuge Must Be Given: Eleanor Roosevelt, the Jewish Plight and the Founding of Israel This book details the evolution of Eleanor Roosevelt from someone who harbored negative impressions of Jews to become a leading Gentile champion of Israel in the United States. The book explores, for the first time, Roosevelt's partnership with the Quaker leader Clarence Pickett in seeking to admit more refugees into the United States, and her relationship with Undersecretary of State Sumner Welles, who was sympathetic to the victims of Nazi persecution yet defended a visa process that failed both Jewish and non-Jewish refugees.
After the war, as a member of the American delegation to the United Nations, Eleanor Roosevelt slowly came to the conclusion that the partition of Palestine was the only solution both for the Jews in the displaced persons camps in Europe, and for the conflict between the Arabs and the Jews. When Israel became a state, she became deeply involved in supporting the work of Youth Aliyah and Hadassah, its American sponsor, in bringing Jewish refugee children to Israel and training them to become productive citizens. Her devotion to Israel reflected some of her deepest beliefs about education, citizenship, and community building. Her excitement about Israel's accomplishments and her cultural biases, however, blinded her to the impact of Israel's founding on the Arabs. Visiting the new nation four times and advocating on Israel's behalf created a warm bond not only between her and the people of Israel, but between her and the American Jewish community.
Sunday, December 3: Private tour of the Yiddish Book Center Special Exhibit: Yiddish as a Global Culture
This tour is limited to 25 people. Register here by November 22.
The Yiddish Book Center has opened an extraordinary new exhibit, Yiddish as a Global Culture. We have arranged for a free private tour of the exhibit for CBI members. The tour will begin at 10:30 a.m. at the Book Center, which is on the Hampshire College campus. We can meet in the CBI parking lot at 10:00 am to consolidate the number of cars we need.
Sunday, December 10: Professor Larry Fine, author of Friendship in Jewish History, Religion and Culture
Covering the vast expanse of Jewish tradition, from ancient Israel to the twenty-first century, this collection of essays traces the history of ideas, rituals, and social practices having to do with friendship in Jewish life, including friendship between men, between women, challenges to friendship, and friendships that cross boundaries.
Strength and Survival: Albert's Story
A Two-Part Meet the Author Series in honor of Albert Goldfield, father of Norbert Goldfield
Saturday, December 16: Lilly Maier, author of Arthur and Lilly: The Girl and the Holocaust Survivor
This event will be hosted at 12:15 pm in the CBI Social Hall, during Shabbat Kiddush.
Lilly Maier will speak about her recently translated book, Arthur and Lilly: The Girl and the Holocaust Survivor. The book tells the touching story of Lilly's remarkable relationship with Arthur, Albert Goldfield's cousin who, like Albert, lived in Vienna before World War II. The unlikely duo met when Artie returned to Vienna to visit his former home – where teenage Lilly was living with her mother.
After hearing from Lilly, now a historian, Norbert will speak about his father's time in Vienna before he fled the Nazis in 1938.
Sunday, January 28: Yolanda Bentham, author of Stories of Survival: The People of Ferramonti: Then and Now
This event will also be accessible via Zoom.
Zooming in from England, Author Yolanda Ropschitz-Bentham will speak about her recently published collection of stories of survival written by foreign detainees imprisoned in Ferramonti di Tarsia Campo di Concentramento in southern Italy during WWII. Yolanda's book features 30 profiles of Ferramonti internees including her father David Ropschitz and his school friend from Vienna, Albert Goldfield. Both found themselves in Ferramonti, among other camps in Italy, David following his arrest by Mussolini's Fascists in Genoa and Albert, after fleeing the Nazi regime in Vienna.
After hearing from Yolanda, Norbert will speak further about his father Albert Goldfield's experiences in Italy and show memorabilia, leading up to Albert's meeting his future wife Liliana Mariani, an Italian Jew from Florence.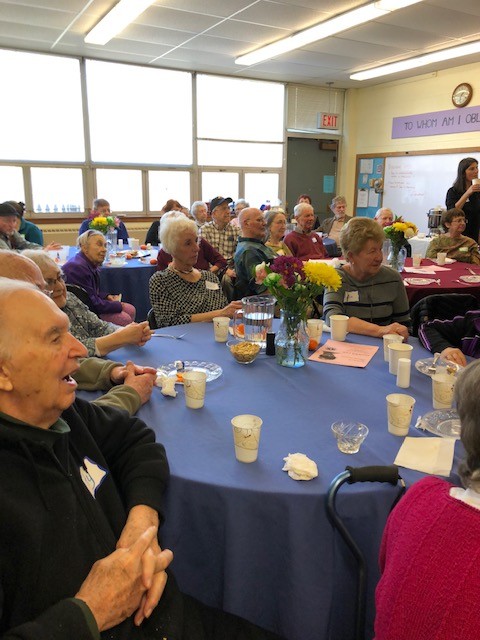 Coming Attractions, Spring 2024
Queer Torah with Rabbi Ariella
Coming back by popular demand in spring 2024, Rabbi Ariella will facilitate learning and conversation about reading Jewish texts through a queer lens and bringing our full selves and experiences into our Torah study.
Community Read
We will choose a book for anyone in the community to read and discuss. We will host several small discussion groups and we will organize a final panel featuring "experts" including literary, historical, and psychological points of view on the book.
Love, Friendship, and the Interpersonal in Jewish Tradition with Professor Larry Fine
What is expected of us, and what should we aspire to, when it comes to interpersonal relations from the point of view of Jewish religious tradition? This six-session course will take up this fundamental aspect of Judaism through an exploration of biblical tradition (the book of Ruth); rabbinic teachings concerning proper relations between teachers and disciples, and amongst teachers ("sages"); kabbalistic and Hasidic traditions concerning spiritual friendship, both individual and communal; and examples of friendship in modern and contemporary Jewish life. The goal of this course is to engage in lively and meaningful conversation around these topics by way of interesting textual study.
Larry is a scholar of Jewish mystical tradition and taught at Mount Holyoke for several decades. He has a strong scholarly interest in this subject, as well as a personal one. He recently edited a book of essays on this theme, Friendship in Jewish History, Religion, and Culture (Penn State University Press, 2021)
Tue, December 5 2023 22 Kislev 5784